Unreal Engine 4 creators can now create and deploy holographic experiences and applications - no VR or AR headset required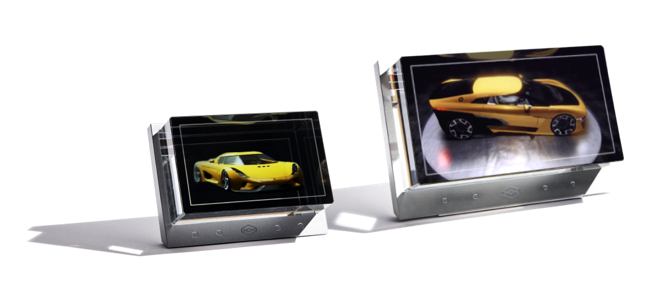 In the past, content creators have been limited to visualizing their 3D content on a flat 2D screen. With the Unreal plugin, now content creators can see what their models, worlds, and experiences will look like in 3D in real-time. This is especially crucial for industries such as automotive, architecture, mapping/GIS, medical imaging, and entertainment, who use Unreal Engine to view complex 3D environments.
"Every day since we launched the Looking Glass in 2018, more and more engineers and designers would reach out and ask when we would support Unreal Engine," said Shawn Frayne, CEO & co-founder of Looking Glass Factory. "That's why we're so excited to announce the UE4 plugin for the Looking Glass today. Now studios around the world can make holographic experiences that go beyond anything ever seen before."
"Having access to a glasses-free holographic display is a massive breakthrough, and presents an exciting prospect for teams working in immersive computer graphics, visualization and content creation," explained Kim Libreri, CTO, Epic Games. "The Looking Glass holographic display provides a stunning level of realism, and we look forward to seeing the innovations that emerge with the support of Unreal Engine generated content."
Powered by
Looking Glass Factory
's proprietary light field technology, Looking Glass holographic displays are true holographic windows into another world that can be experienced by groups of up to a dozen people. The company created the Looking Glass to meet the needs of enterprises that were looking for a deeply visceral, genuinely three-dimensional experience. Now the thousands of developers around the world already using the
Looking Glass developer kits
and industries using the new large-format
Looking Glass 8K
can create and deploy a new class of holographic experiences powered by Unreal Engine.
Unreal Engine Plugin Feature List:
Real-time 3D view of content in Unreal's Game View

Holographic 3D visuals in the editor and in builds

Support for buttons on Looking Glass displays

One-build deployment for 8.9", 15.6", and 8K units

Adjustable camera for clipping planes and FoV

Support for default image effects from Unreal, or customizable effects

Windows only (Linux/Ubuntu coming soon)

Leap Motion Controller support
About Looking Glass Factory
Looking Glass Factory Inc, with headquarters in Greenpoint, Brooklyn and additional operations in Hong Kong, is the global leader in the field of group-viewable holographic interfaces with the launch of their flagship product line, The Looking Glass. This unique combination of advanced hardware and software is based on the company's patented light field technology and in 2019 became the most widely-adopted holographic display in history. Today, the company serves the holographic needs of both developers and enterprises and is committed to building the headset-free hologram-powered future we were all promised in science fiction growing up. For more information, visit
www.lookingglassfactory.com
or contact:
About Unreal Engine
Epic Games' Unreal Engine is the world's most open and advanced real-time 3D tool. Creators across games, film, television, architecture, automotive and transportation, advertising, live events, and training and simulation choose Unreal to deliver cutting-edge content, interactive experiences, and immersive virtual worlds. Follow
@UnrealEngine
and download Unreal for free at
unrealengine.com
.